Longtime Coloradan Will Funk joined Studio Como as a design consultant in September of 2020, bringing his experience in fashion, furniture, and art history—and his inimitable charisma—to the team right when it was needed most during the pandemic's home design boom.
Will's trajectory from retail to buying to design consultancy is marked with self-discovery: his first jobs in the industry were with Jonathan Adler and Design Within Reach where he started to take his passion for home design and contemporary art seriously. Knowing that he loved art's ability to communicate and productively complicate our assumptions of the world, he decided to formally study it, enrolling in CU Denver's art history program where he focused on living contemporary American and South American artists. While finishing his degree, Will worked as a bank teller, honing his other love: engaging with people.
I really respect creators and the creative process. I like pieces that flip convention on its head.
At Studio Como, Will is able to put his natural affinities and hard-won expertise to work seamlessly, graciously guiding clients through decisions about their home's most important investment pieces and championing the legacy of European-made furniture and design objects. We sat down with Will to talk about what he enjoys most about working with the Studio Como catalog, his clients, and his colleagues.
What's your approach to design consultancy at Studio Como?
I like to go slow and ask a lot of questions to really understand who the client is and what they want and need. What brought them in? Are they in the middle of a home renovation, a new build, or do they just need a new sofa? What's their style, their budget? Once I understand these key things I can make sure that what we are providing is appropriate for them and their home.
Counter to the American mentality of consume and dispose, Studio Como pieces are made to last. That alone is a really important reason to get the client to slow down a bit and learn about who these brands are and why these pieces cost what they do. When clients come into Studio Como for the first time, we're approaching the relationship with longevity in mind. I want clients to return to me because they trust me and because they know that I remember their lifestyle needs and preferences.
One of the first things I tell clients is to focus not on how a piece looks, but on how it feels. The reason I do that is that all of our pieces are completely customizable. A sofa that initially screams industrial loft can actually be customized with hundreds of different upholstery options and finish materials, adjustments to seat length and depth, number of armrests, and so on. Beyond the physical modifications, you can also make almost any piece of furniture work in any space by changing up how you accent it with pillows or rugs, or tables. So I really try to get clients to focus less on visual aspects and more on a piece's quality and how they see themselves living with it.
Seeing the complete picture of a space is something I learned in my art history education. It's a lot like assessing a painting and considering composition, color, shape, and shadow—all these things that work together to create the final frame. I try to address design projects in the same way.
Are clients ever surprised by what they respond to once they've made that shift?
All the time. I think that people come in here and they're like, "Whoa, it's very modern, it's very contemporary,"—and it is, right? Europeans are very modern, and there are reasons for that. Modern furniture is ergonomic, it's comfortable, and it's well-made. These manufacturers always start with research and development, looking at structural and material integrity. They're using the best of the best: the best woods, the best foams, the best down, the best wool, the best elastic, and the best metal. In Europe, and especially in Italy, the trades are treated with the utmost respect. Tradespeople are paid a livable wage, often working with one company for decades, and are proud of what they do.
This quality of work shows, and it appeals to people even if they don't have ultra-contemporary or ultra-modern taste. When you buy Made-in-Italy furniture, you're paying for a certain quality of life for the people designing and making each piece, you're paying for sustainability, and you're paying for really well-made, ethically sourced materials. I think once clients feel that in a piece it's hard not to be drawn to it.
Which category of Studio Como's products is most exciting to you?
I love our lighting companies. Good lighting transforms a space. Almost more so than furniture, lighting sets the mood and tone. You can take a super modern, white box of a room and put out a couple of really beautiful floor lamps or a sculptural pendant and the space comes alive. In furniture design, you're having to consider functionality, comfort, and long-term durability—but with lighting, the parameters are a little less rigid and creativity can run wild.
You can use lighting to stay in sync with the space's design sensibilities or to counter them in interesting ways. You can have a glass orb that emits a beautiful, warm light; you can have something that looks like an amoeba swimming through space; you can have glass, metal, leather, or horsehair…we have endless possibilities with the brands we carry here. Lighting doesn't have to be special to serve its purpose, but there are a lot of interesting designers right now who are taking the time to make it special. As someone who appreciates fine art and sculpture, I really appreciate and admire that innovation and emotionality.
Lighting is also highly technical. Lighting projects are where I've learned the most in this job. I knew next to nothing about lumens and Kelvins and drop heights and canopies and remote power before I started to design with lighting. It's been an enormous and exciting area of growth for me.
What can you tell us about your personal aesthetic? You obviously love art; how have you brought art and design into your home?
I really respect creators and the creative process. I like pieces that flip convention on its head. I have a Moroso Gentry sofa designed by Patricia Urquiola that is covered with a quilted, braided textile that I just love. I try to keep a neutral palette in my home with main pieces in gray, black, and oak because I collect art and art books that bring a lot of color into the space. I have some Eames dining chairs, a Poliform bed and nightstands, and a Taccia lamp from Flos.
I'm always on the lookout for cool designs, but I really prize the kind of customization you get when you work directly with a showroom or manufacturer. I know a lot of people who have an eye for vintage and secondhand finds and can integrate them into their homes, but I'm not one of those people. I like to choose my materials and fabrics. That's a big part of why I love working at Studio Como—I like the personalization of each purchase.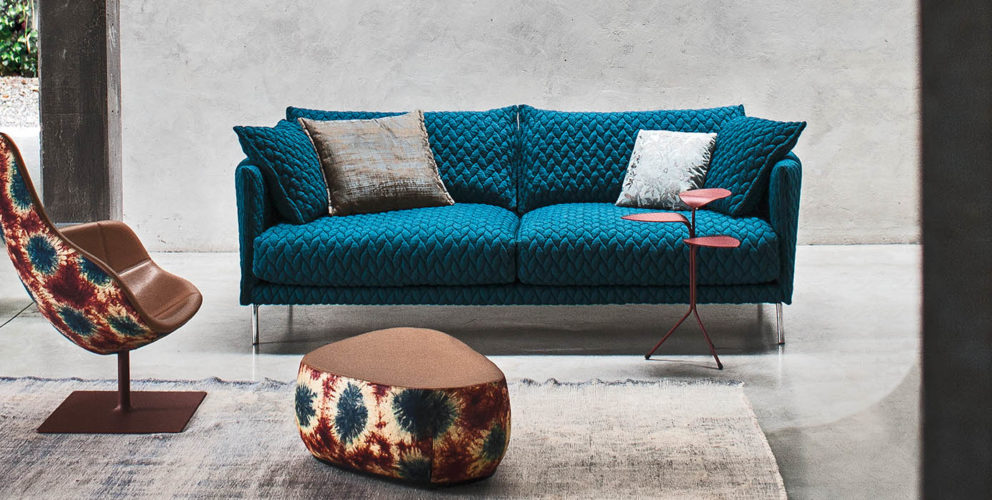 Tell us about one of your favorite recent projects.
I just finished an almost-all-Minotti project in Boulder with a new client who came in last year. She and her husband built a modern glass and wood house, and we filled it with Minotti pieces and Brokis and Roll & Hill lighting. Minotti always takes things to the next level, using the best quality materials and construction; it was fun to just play in that world. The client and I had a great time. She really trusted my input and we were able to work together to create a cohesive design.
How do you deal with challenges?
Challenges are inevitable when you're working with multiple clients and manufacturers and doing sales. But we have amazing people involved at every step at Studio Como, ready to support us in resolving any issue, from design consultancy to manufacturing to our incredible delivery. At the end of the day, all I care about is making our clients happy and honoring the legacy of our brands.
What do you enjoy most about working with Studio Como?
The culture of Studio Como is very unique. We're all given the tools, resources, and trust to be successful from the top down. And there is such an emphasis on education. We of course travel around the mountains, presenting new lines and products to local designers and clients, but we've also made trips to New York and Italy to visit our manufacturers' factories and showrooms. Those trips provide in-depth knowledge about the furniture and how it's made.
I think in the U.S. we hear "Made in Italy" and don't really understand what it means. The Italians put meticulous detail into everything they do: from pasta and wine to lighting, silverware, glassmaking—you name it—and to receive the "Made in Italy" certification, the government has to approve the process. Once you see that firsthand, you really start to understand what you're selling.
I've learned so much from my teammates. It's a testament to our founder and president Brad Fentress and his ability to pull people in who are good at their jobs and good at working with others. We all have different styles and ways of approaching things and are very collaborative—we're all changing and growing all the time. I also learn a lot from the clients. Working with people who are as passionate about furniture as I am, makes for a lot of fun.
Thank you, Will!
---