The legacy of Italian-made furniture is unmatched, and there is no better city to see its best-ofs than in Milan. Which is why Studio Como sent its team of design consultants there this November.
In addition to sightseeing at Piazza Duomo and the Sforzesco Castle, eating risotto and buffalo mozzarella pizza, drinking spritzes and canarinos, and feasting their eyes on the city's sartorial delights, the five consultants attended training sessions at B&B Italia, Flexform, Minotti, and Poliform headquarters. Consultant Will Funk's takeaway? "We truly sell the best furniture in the world."
It's a strong declaration, but given the gathered impressions from the rest of the team—design director Laura Folgoni, consultants Gabriela Peña and Emily Sewell, and technical kitchen designer Jenny McNab—we think it must be true. Here are their takeaways.
The two biggest trends spotted by the design team are actually as old as time: simplicity and comfort. "We all like to be comfortable and surrounded by beautiful design—without spending hours taking care of our furniture and the way it looks," explains Laura. The team observed a return to soft lines and curved shapes present in all of the brands' upcoming collections, with Emily excited to see Minotti's take on the Japandi movement that blends the aesthetics of Japanese and Scandinavian design. "I find that our lines are seeking new solutions for today's needs—bringing sustainability, comfort, and craft together," she shares.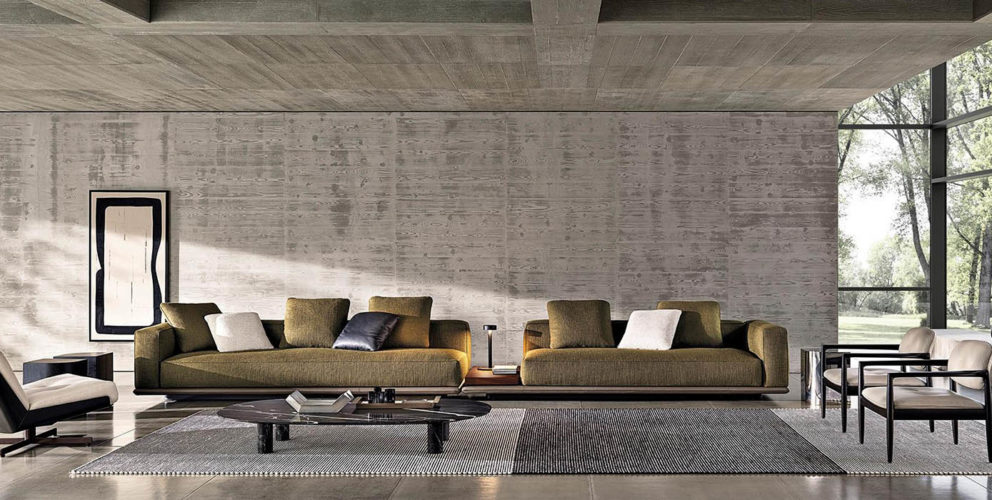 Milano
View of the city from Duomo di Milano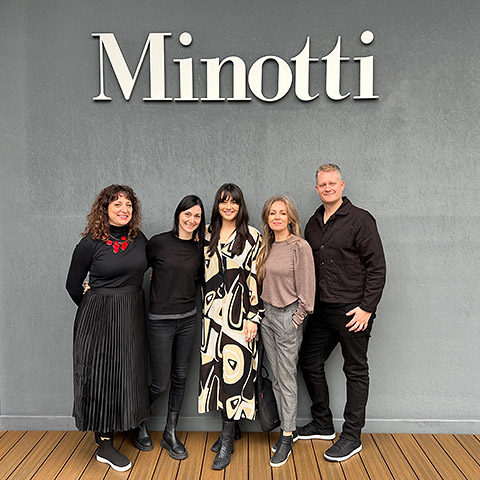 Minotti
Our Design Team with Beatrice of Minotti
Flexform
Training Session at Flexform
When it comes to the fabrics and colors covering these simple, organic forms, Gabriela notes the "chunky, textured fabrics that will be great for our Rocky Mountain clientele," hued in natural tones—amber, chartreuse, dark navy—as well as playful pastels. All four consultants picked up on the increased use of bouclé, with Will noticing how corduroy is being reintroduced as a 1970s throw-back vibe.
"Every manufacturer is focused on using extremely high-end materials but also using technology to advance recycled materials so they feel just as high-end as a down-filled sofa. This stuff is built to last," says Will. "The emphasis continues to be on sustainability and indoor-outdoor living." One reason so much innovation is being put into outdoor furniture, Laura thinks, is because of the pandemic. "A lot has changed in people's minds during the past two years, and I wonder if this new 'culture' will keep on going or change again," she says. "I'm excited for beautiful outdoor furniture that mimics interior designs in looks and comfort."
Milano
Will, Gabby and Emily on the streets of Milan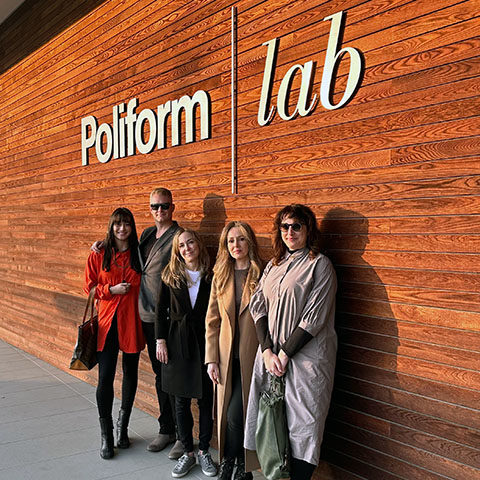 Poliform
Our Design Consultants at Poliform
Duomo Di Milano
Our Design Team with Antonella of Flexform
The team was affected by the experience of being in Milan, a history-drenched city that has nonetheless always been on the leading edge of innovation. A visit to B&B Italia's in-house factory revealed the nuances of fine furnishings, wowing the team with its cold injection foam molds. "B&B Italia has been forward-thinking from the get-go," says Emily. "Since the late 1960s, they've embraced new concepts through product design and production, marketing concepts, and creating pieces that uphold a timeless and unique environment."
And of course, nothing beats showroom visits where human connections are forged and fortified. "Getting to see the life behind the product—factories, workers, corporate showrooms, the network of people involved in the whole process—is the real deal for me," says Laura. "Even after having experienced it over and over, it is always the best part. You get to the core of what everything is and why. A sense of enchantment is hard to come by as an adult, but it comes up when I'm in front of a lounge chair or a foam injection mold…go figure!"
Gabriela says the trip provided her with specific know-how that will enhance her ability to serve the Studio Como clientele—knowledge that, like the furniture it speaks to, is Made in Italy. "Technical information backed by personal experience is the most important tidbit to have in your back pocket," she shares. "In our market specifically, I've noticed an embrace of quality, subtleness, and function that comes above what is popular or trending. There's an emotional approach to what clients are selecting, and we hope to foster that by providing a perspective of what makes us, as design consultants, swoon over a piece of furniture."
To that end, here are the Studio Como design team's favorite pieces seen in Milan:
emily Sewell
Cassina Zig Zag Chair
Minotti Goodman Seating System
Flexform Parker Outdoor Sofa
GABRIELA PEÑA
Minotti Gladstone Coffee Table in Verde Alpi Marble
Flexform Perry Sofa with integrated cowhide storage containers
Baxter Lazybones Lounge Chair in Mouton
will funk
I would add every single piece of Baxter furniture to my home—their showroom in Milan is out of this world. I'm particularly in love with the Lazybones Lounge Chair by Baxter, the Tessa Chair by Flexform, and the Yoko Dining Chair by Minotti. Himani Rugs by Baxter get an honorable mention!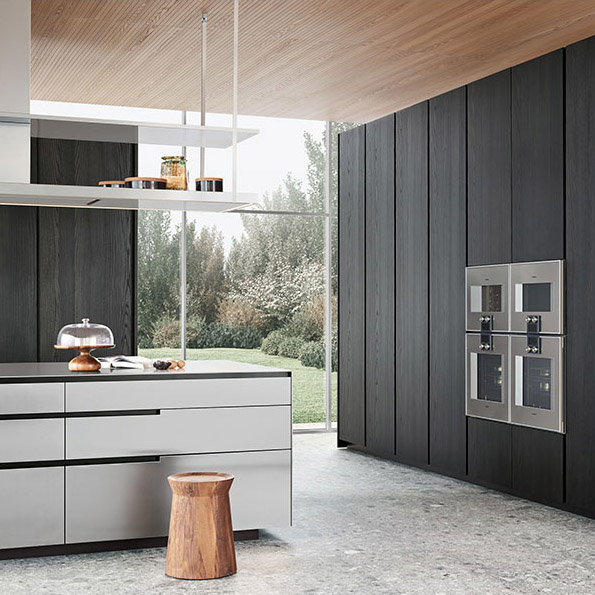 jenny mcnab
As a technical kitchen designer, I was thrilled to visit Poliform. One of the things I love most about Poliform kitchens is the subtle way the details make the project. The flow between drop zone, worktop, storage space, utensils, and appliances makes using the space a pleasure!