Ever wonder what catches a Studio Como design consultant's eye on a market tour?
In mid-March, our sales team traveled to New York to visit Cassina, Poliform, Baxter, Moooi, and Apparatus. The four consultants returned home with a wellspring of impressions to share about new products and trends, as well as furthered knowledge about pieces currently in our collections.
Dedicated trips to established and prospective Studio Como brands and associated design studios are integral to our work. It's on these trips that the Studio Como consultants hone their expertise and forge connections, growing their unique understanding of new or updated lines and receiving information on various aspects of the industry like heritage, craft, and innovations in technology and manufacturing.
Here are our four design consultants' takeaways about what to look for in high-end furnishings for 2022.
Hortensia is soft and has a lot of movement, but still feels durable and substantial.
Several members of the team were excited to see the Hortensia chair, the famed armchair that was initially designed for the digital world by 3D artist Andrés Reisinger before being brought to the IRL market by Dutch furniture and lighting design company Moooi. Consultant Gabriela Peña remarked that Hortensia (which is made of 30,000 fabric petals and offered in pink or gray) "is soft and has a lot of movement, but still feels durable and substantial."
While Hortensia holds the allure of the future, the consultants found it equally satisfying to revel in the enduring legacy of design history icons. Mid-century Cassina pieces that have been reissued in the last two decades caught the attention of our sales team, including the Tre Pezzi armchair, designed by Franco Albini and Franca Helg in 1959; Charlotte Perriand's 1972 Ventaglio table; and the Soriana sofa designed in 1969 by Afra and Tobia Scarpa and reissued just last year.
Tre Pezzi Armchair
New York-based lighting studio Apparatus wowed the crew with their artful illuminations. "The light is almost surreal in these new Act Four pieces," says Studio Como design director Laura Folgoni of the brand's Signal Z and Y suspension lights. Gabriela also indicated Apparatus's Reprise Collection—wherein moon-like glass orbs are cradled by suede- or leather-wrapped brass armatures—as being among her favorite new pieces for the year.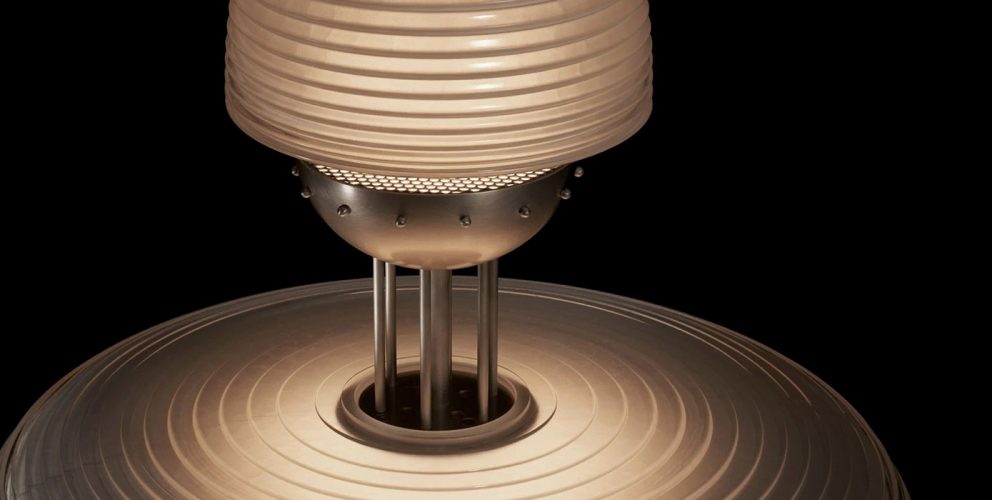 "Lighting is being dropped in rooms, creating intimacy and lowering the sightline," consultant Will Funk remarks. His overall takeaway was that the current trend toward comfort and intimacy reflects lifestyle changes brought about by COVID-19. "In general, I'm seeing a return to real comfort in upholstery pieces," he says. "Design will always matter, but the oversized, inviting, practical, low-maintenance pieces really stood out to me. These are also Studio Como top sellers."
Consultant Therese Diederich also took notice of the movement toward comfort and ease, explaining how many lines are offering new sofas, chairs, and even tables that incorporate rounded and organic shapes, often upholstered in punchy colors (see B&B Italia's Allure O' Table and Flair O' Chair, and Poliform's Le Club Armchair and Saint-Germain Sofa).
"I noticed a lot of jewel tones coming back," agrees Gabriela. "It seems as though the design world is moving away from neutrals and chunky textures and toward rich colors and sleek textures, which I love."
Another prevailing theme to emerge was innovations in kitchen systems, shelving, and storage solutions. Will was impressed with the abundance of Poliform kitchens shown, each imbued with the international design leader's hallmark functionality and unique detailing. "The way Poliform designs and utilizes what could be dead space is ingenious: hidden desks, glass boxes that drop from the range hood, drawer storage with tools that cut tin foil…so many hidden details that really make their kitchens special."
As Laura explains, the Bio-mbo headboard "breaks the 'bed against the wall' rule to allow for more creativity in the design of a space," with its fully upholstered, folding headboard outfitted with built-in pockets that transform the bed into an unexpected location for simple and attractive storage.
And of course, as any design expert knows, location is everything. The team was invigorated by New York's hustle and verve, and were all the while reminded of the specific context of Studio Como's Rocky Mountain clientele by comparison. "Everything is about optimization and efficiency in the big city," says Gabriela. "At Studio Como we're acclimated to a slower approach and thoughtful curation. It felt all-encompassing to see both sides."
---