Raimond R127-R163-R199 Pendant Light
Designed by Raimond Puts & OX-ID for Moooi
Made in the Netherlands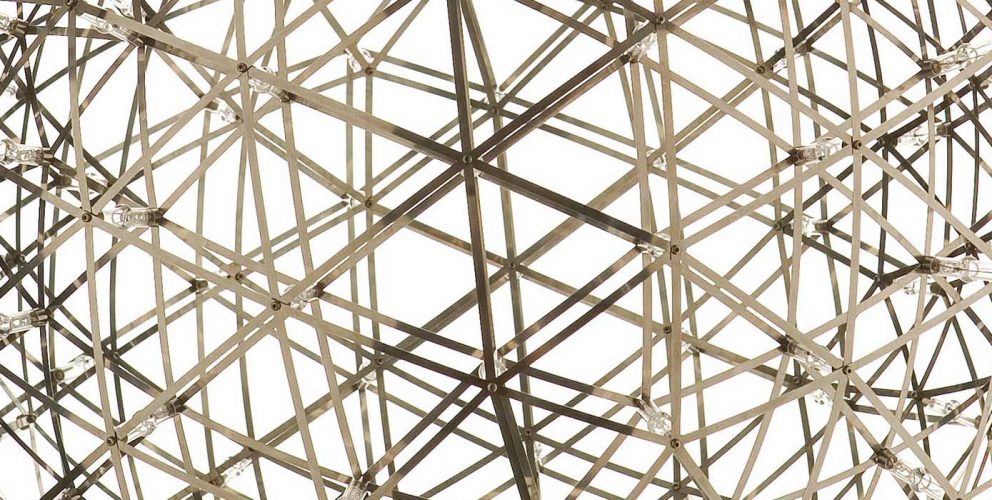 ---
Overview
Raimond R127-R163-R199 Pendant Light by Raimond Puts and OX-ID for Moooi is a perfect sphere of mathematical ingredients punctuated by tiny LED lights. Raimond is detailed to spread warm white light in every direction. Looking at the light feels like staring into the soft glow of a starry night. Inspired by the geodesic dome, designed by Buckminster Fuller, the Raimond collection is the result of almost forty years of research and dedication of mechanical engineer and self-taught designer Raimond Puts (1937 – 2012).
Raimond deserves to be clustered and is available in six suspended variants. Raimond is also in the shape of Raimond Zafu and as floor lamp Raimond Tensegrity. Combine a couple of Raimonds, squint your eyes, and experience how the warm light spreads in every direction.
Materials
A double-shell sphere made with stainless steel strips forms a thin and openwork triangular mesh that transports the electric current.
---
About Moooi
Founded in 2001 by Marcel Wanders and Casper Vissers, Moooi is based in Breda, Netherlands. On the edge of commercial reality and cultural interest, this Dutch furniture and lighting design brand is innovative, provocative, and poetic at the same time.