Three of the most influential countries in design — Japan, Denmark, and Italy — merge in the work of furniture makers Inoda+Sveje. Ascribing to the adage "form follows function," and using organic shapes and materials, Inoda+Sveje's designs are minimal yet warm, showcasing just how compelling simplicity can be.
Following their respective training in industrial design and architecture at ISAD and the Royal Danish Academy of Fine Arts, Kyoko Inoda and Nils Sveje met, moved to Copenhagen where they founded their eponymous company in 2000, and returned to Milan to grow it. Early on, the duo consulted to develop devices for medicine, transportation, and renewable energy before focusing on furniture. Present in every aspect of their design portfolio, and especially in their furniture, is an attention to human-object interactions.
"The objects around us, especially those we are in intimate contact with, can bring comfort and richness to our lives beyond their primary function," they tell Prestige magazine. "A chair is much more than the ergonomics of resting the body. When you sit down, your hands wander over the surfaces and put material and form into play beyond the way most people regard aesthetics, and we wish to tell that through experience."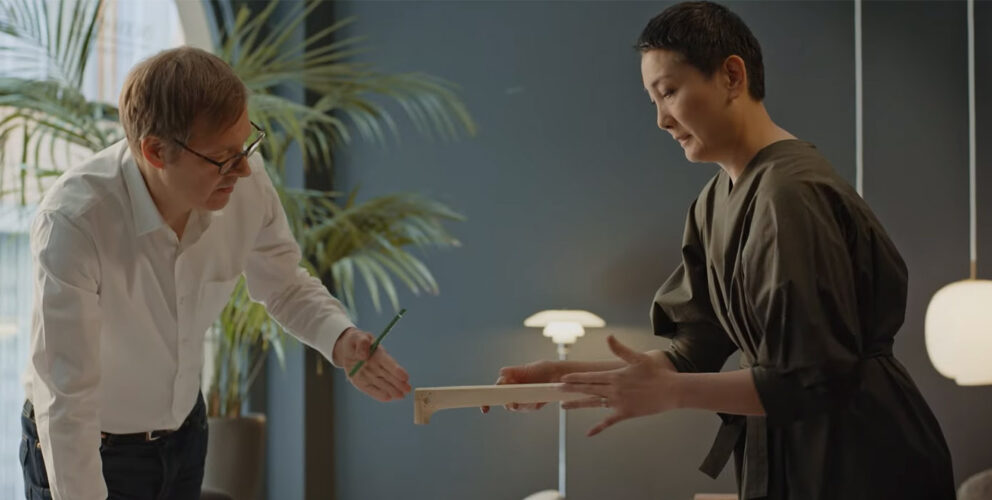 Over the last two decades, Inoda+Sveje have been able to tell their story through collaborations with leading international brands. They've collaborated with the Miyazaki Chair Factory in Japan, Phantom Hands in India, and—as included in Studio Como's catalog—Minotti in Meda, Italy. "For us, the relationship with Inoda+Sveje represents another step forward in our design path and in the history of the company," says owner and designer Roberto Minotti, sharing that for Minotti the drive to collaborate comes from a desire to exchange cultural viewpoints and explore new stylistic horizons.
Inoda+Sveje have explained how minimalism asks designers to "find the 'most simple road between two points,'" and how that, for them, this doesn't mean drawing something dull. Instead, they've looked to see how nature carves its lines. "The shapes it throws up—sand dunes, coast lines, mountains—are never straight lines," they say in an interview with Phantom Hands. "We are fascinated by this vocabulary of the physical world and its refusal to be restrained by linearity. Which is why we are not drawn to mechanistic straight lines and prefer natural forms."
This design approach is reflected in their Sendei and Yoko lines for Minotti. Like the "city of trees" they're named for, the pieces in the Sendei seating collection—an armchair, dining chair, and lounge sofa—all have slender solid wood legs turned from Canaletto walnut or ash. Sitting atop these simulated tree trunks are lushly upholstered perches made from high-resilience, variable-density polyurethane foam wrapped in a range of fabrics and leathers.
In the Yoko collection—their first collaboration with Minotti—the duo highlights their shared expertise in woodworking, perfectly marrying the craft legacies of their Japanese and Danish roots. The Yoko armchair, dining chair, and footstool are made with interlocking cabinet-making techniques and have an elegant wooden silhouette that purposely features their fine joinery. A tailored backrest and seat cushion made from Tortora leather draws the eye to its detailed topstitching.
"Our collection for Minotti is made up of objects that are the interface between the person and the rest of the house," Sveje explains, sharing that their relationship with Minotti was born from "open discussions" and propelled by "positive and creative momentum." It's an energy you can feel. In the midst of Inoda+Sveje's cultural confluence there is a natural synergy—one that makes their designs feel right at home.
Shop and make direct purchases from Inoda+Sveje's collections for Minotti at Studio Como.
---