Henge started as a quest. The Made-in-Italy furniture and lighting company began in 2011 with founder Paolo Tormena setting out to source unique materials that could be transformed into contemporary furnishings with enduring resonance.
Like its name suggests, Henge is interested in making monuments of our everyday spaces, imbuing interiors with beauty, history, and narrative. Tormena founded the company around an unrelenting dedication to study—of materials, craft, and aesthetics alike—which has made Henge a leader in the furniture industry around the globe, and especially in its native Italy.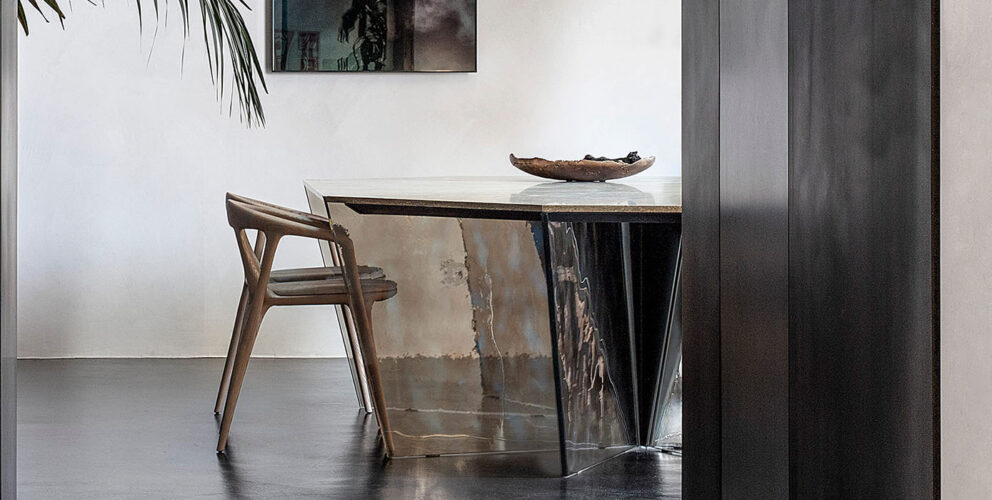 "Research is at the core of what we do," Henge says of their central ambition to discover and design with extraordinary materials, like petrified wood, volcanic stone, and rare metals. Adding to its unorthodox approach, instead of designing within a set schedule derived from trends and fairs, Henge lets its material research set the pace. "We are proud to have no restrictions," Tormena says. "We are not a brand tied to a standard production process or use of a certain material. Our minds are free to create because we can work with any material, any technology, and any shape."
The cycles Henge does abide by are those of the natural world. Their material palette—used on sofas, tables, chairs, bookshelves, cabinetry, and lighting—bears marks born from both weather and time. The organic qualities of age and texture are embraced in Henge's design language and are held in productive tension with clean, spare silhouettes that have been crafted using advanced technologies.
Henge believes that rare materials have the ability to tell stories that surpass language. These materials express themselves and are understood through physical experience and touch. Breccia Medicea dell'Acqua Santa marble, sourced from an exclusive quarry in the Apuan Alps in Tuscany, is an exemplary material in the Henge catalog. The precious polychrome stone offers inimitable character in its organic veining and is loved by the Henge designers for its ability to express emotion. Henge calls it "a marble able to energize anything surrounding it." The marble, which originated during the Renaissance, is held as a cornerstone in Henge's new S34 space, and is used in their Ozone kitchen and new Alter Ego table.
Tormena carries out material research by traveling around the world to seek inspiration, but Italy will always be Henge's home. In 2023 the company opened a new space, which they've named S34, in the center of Milan's Quadrilatero della Moda. The space is a short walk from where the international furniture fair Salone del Mobile is held. Award-winning designer and key collaborator Massimo Castagna, with whom Henge has worked since 2011, calls S34 "a hidden space that invites you to enter and discover the great expressive power of the Henge world…An augmented surface that merges architecture and products in one place. Three levels of light, shape, matter, and function to explore."
In addition to Castagna, Henge is kept vibrant through its collaborations with designers like Ugo Cacciatori, Isabelle Genovese, and in a recent partnership with the internationally acclaimed design studio Yabu Pushelberg. For Henge, Yabu Pushelberg designed the Noce and Puddle collections. Noce, a family of dining and lounge chairs upholstered in nubuck leather, looks to the sculptural form of its namesake walnut tree, while Puddle—a set of three coffee tables finished in silver, bronze, and burnished brass—takes cues from the undulating natural formations of a landscape.
Henge describes their newly unveiled Muse coffee table, designed by Isabella Genovese, as a piece that "fully represents the brand's philosophy." As a study in contrast, Muse has rigid steel legs that hold the curved swell of a stone table top. Henge calls it a celebration of "tuneful dissonance" and the "brand's dedication to uniqueness." Muse harnesses the power of a monument while simultaneously offering an ease of use. Like Henge's other designs, it is meant to fit into a wide array of interior contexts and aesthetic sensibilities.
In the last 10 years, Henge has become a monument of its own, setting a new benchmark for high-end interior design and operating within a global network that reaches 70 countries. Studio Como is pleased to now offer Henge's full catalog of furnishings and to be its exclusive dealer in Colorado. Shop and make direct purchases from Henge at our showrooms.