Cozy to the Max
Thanks to its super-soft padding, the Freeman "Duvet" sofa exudes a pleasant sensation of inviting warmth and extreme comfort.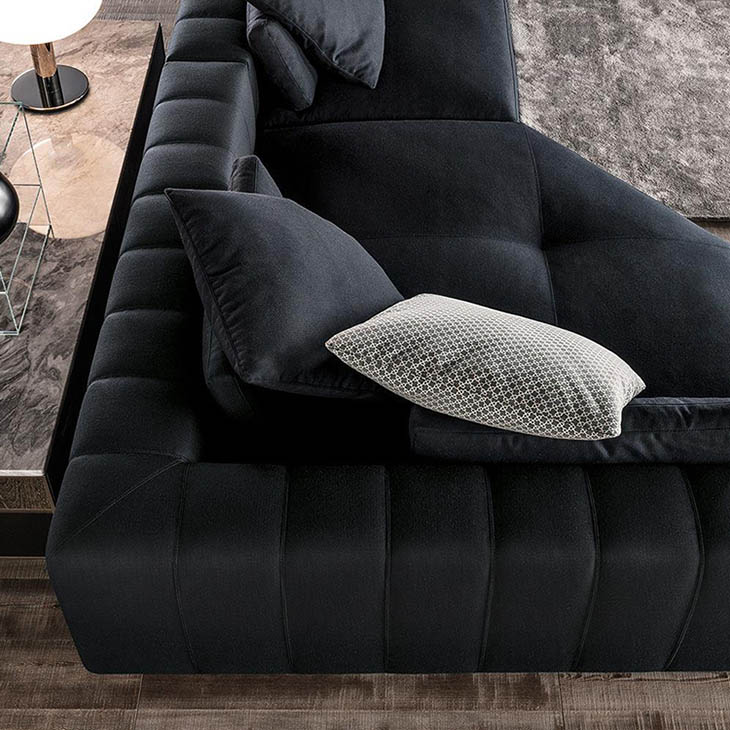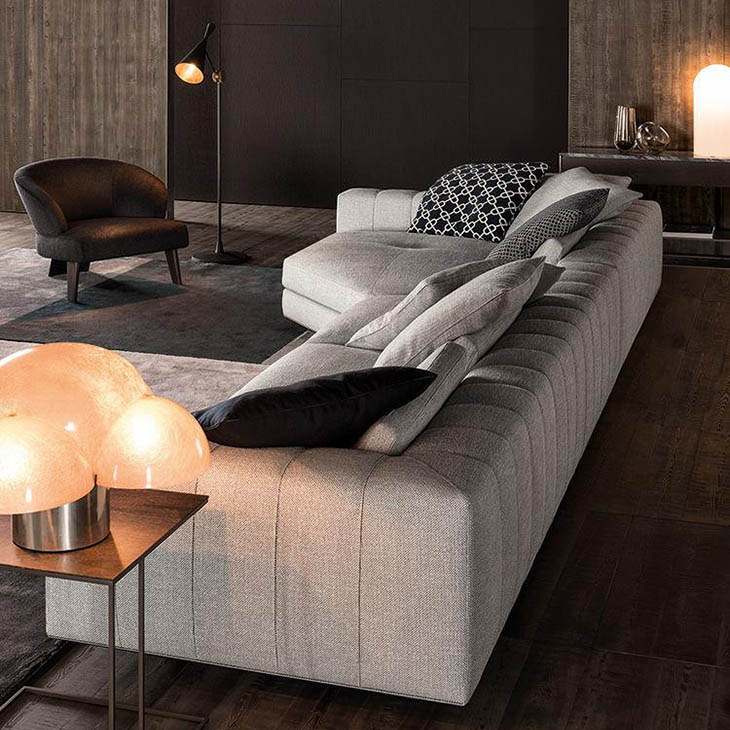 ---
Overview
Prepare to get cozy on Freeman "Duvet" by Rodolfo Dordoni for Minotti as this sofa offers the pleasant sensation of inviting warmth and comfortable softness. The seat cushions of the Freeman "Duvet" elements have a core insert in polyurethane wrapped in Memory Foam padding and topped with a layer of soft down. For an overall effect of extreme softness, the entire structure of the Freeman "Duvet" is wrapped in a heat-sealed fiber covering.
The armrests and backrests are embellished with a sophisticated stitching motif that is an eloquent expression of the company's tailoring skills. The pieces in fabric are joined with a strip of bronze-colored eco-leather with a double-stitched pattern that rhythmically emphasizes the volume of the elements.
To promote good posture during reading and relaxing, the Freeman "Duvet" elements can be outfitted with a practical headrest designed to provide just the right support, along with the lumbar cushion. Crafted with a metal structure, covered in polyurethane foam, the upper part is padded and finished with elegant stitching. To further enhance the sensation of comfort, the backrests in the Freeman system are outfitted with comfortable lumbar cushions, as well as pillow-soft back cushions.
Materials
Plywood structure with suspension provided by high-rubber-content elastic webbing
High resilience, variable-density polyurethane foam seat structure with a concave contour to cradle the seat cushion in order to maintain its stability and durability
The armrests and backrests have a breathable heat-bonded quilted fiber casing laminated to a white hypoallergenic cotton fabric which lends softness and comfort. A special assembly was used for the structure covering (backrests and armrests). The various parts in fabric were joined by using a bronze-colored strip of eco-leather with double-stitched detail. In the leather version, the strip is in the same leather as the one used for the upholstery.
Extruded aluminum frame base with cast aluminum joint fittings (both an exclusive design by Minotti Studio), with a glossy anti-fingerprint Bronze painted finish. The metal feet also have a glossy Bronze painted finish. Protective bronze-painted SEBS glide (soft scratchproof rubber).
Seat and backrest cushion covers are completely removable in all versions (fabric and leather). The fabric structure covers come off by removing the metal base after loosening the ribbed handles with the key that is provided. Structural leather upholstery is not removable.
Channeled goose down padding for the backrest cushions (Assopiuma certified, Gold Label) with Memory Foam core insert (temperature-sensitive material). Seat cushions are completely reversible, with channeled goose down padding (Assopiuma certified, Gold Label) and core insert made of high resilience, variable-density polyurethane foam wrapped in a layer of Memory Foam.
---
About Minotti
Minotti is the embodiment of the "Made in Italy" moniker—timeless design, utmost quality, and a strong, recognizable identity. Established by Alberto Minotti in 1948 in the small town of Meda, Italy, the company started as a small-scale artisan workshop and has since developed into a global enterprise and one of the most well-respected furniture brands in the world.