In the world of Italian furniture there is no material more luxurious than leather, and no one who knows leather better than Baxter.
Founded in 1990 by uncle-nephew pair Luigi and Paolo Bestetti, Baxter has been using traditional tanning methods to unconventional ends for over 30 years. What's made Baxter's work stand out from the very beginning is a heightened attention to the nuanced language of leather. The first sofa they brought to market—the Chester-style Alfred designed by Marco Milisich—put a four-millimeter-thick cut of leather, deemed too heavy for furniture-making, to the test. The experiment was a success and laid the groundwork for an enduring redefinition of what this highly-evocative material is capable of.
Leather is an embodied material that bestows a space with intimacy. It's one of few materials that touches so closely on our interconnectedness with nature and the passage of time. It's a material with visual allure, tactility, and meaning that actually deepens with age, or, as the Bestettis explained on the occasion of Baxter's 30th anniversary, where "time and wear are like reactants" and "matter becomes part and parcel of the design process." It's in Baxter's distinct use of leather that "softness and comfort combine with the pure and simple pleasure of touching surfaces."
Over the decades, and as their collection of offerings has grown beyond sofas, beds, and armchairs to incorporate tables and lighting wrought in metals and marbles, Baxter has sought out the best designers and architects to visually articulate their materially-minded approach. These creatives not only understand full-grain leather's rarest qualities but also have the ambition to express its characteristics and limits in artful ways. Baxter calls its studio "an alchemist's lab" brimming with active and dynamic energy, and the designers and craftspeople within it "a large and not so ordinary family."
Marilyn Chairs & Nairobi Table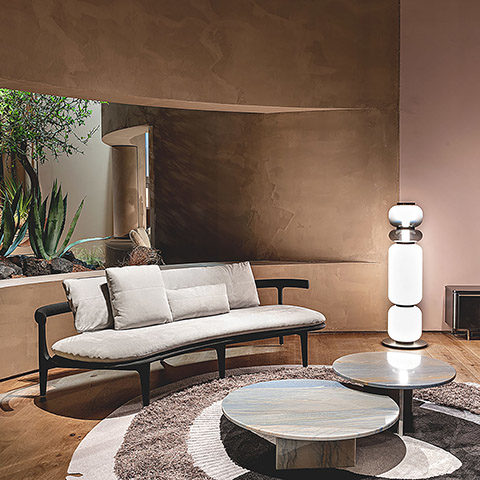 Himba Sofa & Tebe Tables
Keren Armchairs & Fany Table
That family includes over 100 industry-leading collaborators like Paola Navone, Piero Lissoni, Christophe Delcourt, Federico Peri, Roberto Lazzeroni, Studiopepe, and Draga & Aurel. Each has developed distinguished Baxter designs, from the Milano and Sorrento armchairs' thin, fabric-like leather finish to the Nanda Wall Light's soft, fused-glass glow.
Paola Navone, one of the company's most consistent collaborators, was brought into the fold 15 years ago, and in her tenure has designed several core lines including Milano, Brussels, and Sorrento. According to the Bestettis, while Navone knows the power of a foundational sketch, she "believes drawing is not the only important component" of furniture design, but that "what counts above all is the shape that expert hands will be able to give it." In her designs, the grace of careful line work is fully formed in variously treated leathers.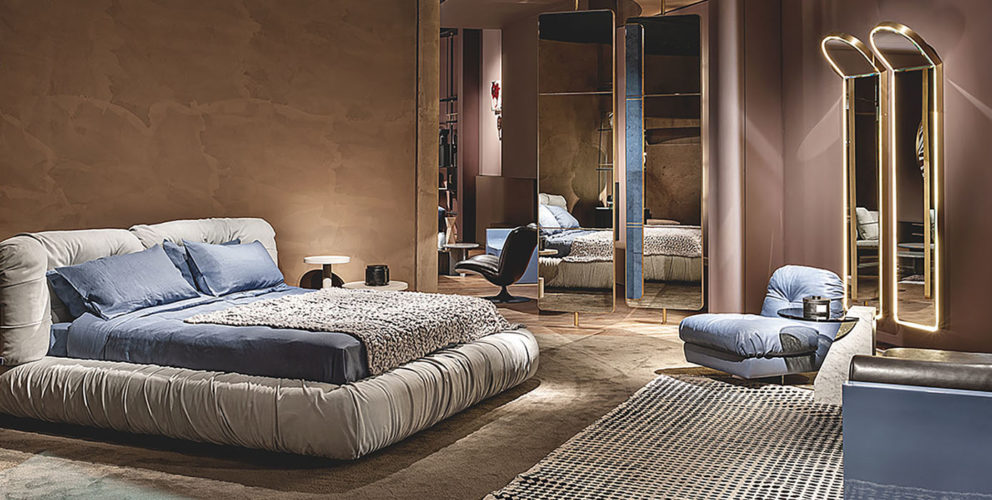 This summer Baxter presented and previewed their 2022 indoor and outdoor collections at Salone del Mobile, with exhibitions in four separate venues. Each display offered a refined vision of how we make space, and all showed an evolution of the company's commitment to experimentation within tradition as well as their embrace of new technologies, textures, and colors. The exhibitions perfectly encapsulated Baxter's sculptural artistry where "idea and substance, design and material go hand in hand in the great challenge of creation."
Baxter's full catalog of sofas, beds, armchairs, tables, shelving, and lighting is now available through Studio Como, with select pieces coming this fall to our flagship Denver showroom.
---