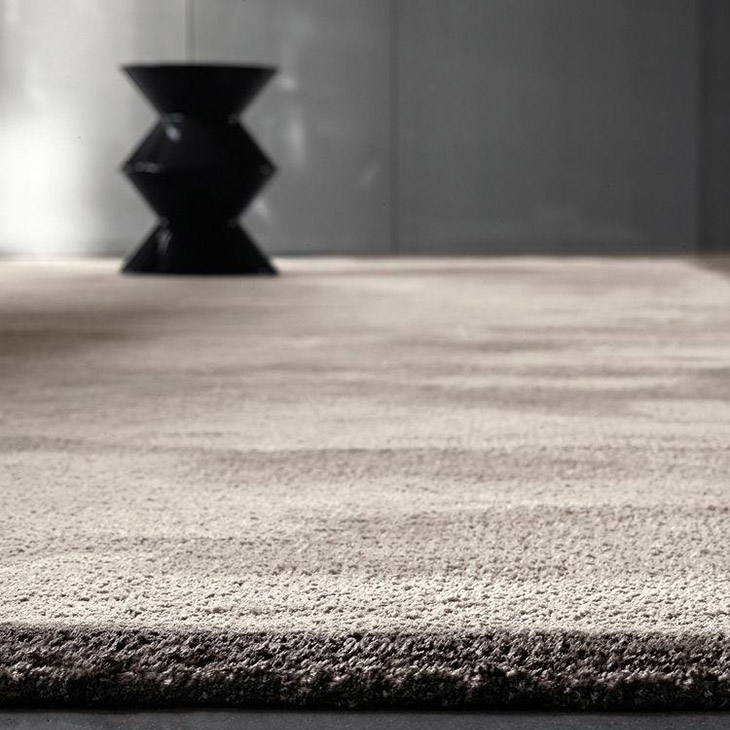 Overview
Dibbets Frame by Rodolfo Dordoni for Minotti is a rug made of Lyocell®, a cellulose fiber that is appreciated for its ability to reflect light. Hand-tufted, Dibbets Frame is a carpet of artisan craftsmanship, which features a 5 cm border that frames the rug in a contrasting color.
Dibbets Frame is available in various sizes and the following color combinations: Ecru with Pewter frame and Pewter with Ecru frame; Ecru with Stone frame and Stone with Ecru frame.
Materials
100% Lyocell® (a cellulose fiber)
The surface, 16 mm in thickness, made of shorn viscose (Lyo- cell®), produces bright, iridescent reflections
The upper layer is made of polyester; whereas the lower layer is treated with natural, pre-vulcanized, antiallergenic latex
Overall weight: 5,5 kg/m2
The rug can be made to measure (multiple sizes of 50 cm)
The carpet is enhanced by a frame, 5 cm in thickness, in a contrasting color
Because of the manual, craft-based working technique used, the overall dimensions of the rug might vary by approximately 3 cm, even with custom-sized rugs
---
About Minotti
Minotti is the embodiment of the "Made in Italy" moniker—timeless design, utmost quality, and a strong, recognizable identity. Established by Alberto Minotti in 1948 in the small town of Meda, Italy, the company started as a small-scale artisan workshop and has since developed into a global enterprise and one of the most well-respected furniture brands in the world.