The central premise of Gustaf Sobin's book Luminous Debris—which is part prose poetry, part archeological scholarship—is that objects not only affect our experience of the present, but they will also play, as the title suggests, a luminous role in our absence. Objects outlast us. The pieces we fill our homes and lives with will someday be objects of contemplation for future generations—material evidence of our values, habits, and tastes.
What Sobin articulates, Apparatus embodies.
"To summon a mood, my process begins by imagining a complete world," writes the lighting and furniture studio's creative director, Gabriel Hendifer, who co-founded Apparatus in 2012 with Jeremy Anderson. "The objects we make become tangible artifacts of these worlds and are an invitation for you to join."
Apparatus's collections of bespoke lighting are wonderfully anachronistic, timeless, and artifactual all at once. However, the studio is very much designing for the present day. Since their founding in 2012, theirs has become a leading name in modern and contemporary lighting, a testament to their sensitive understanding of materials and the stories they tell when given the right touch.
Apparatus began as Hendifer and Anderson's personal pursuit to create lighting for their shared home. It soon gained wings as an art project and then became a fully-fledged enterprise. Today, Apparatus has galleries in New York, Los Angeles, and Milan. All pieces, which are made of marble, suede, horsehair, lacquer, and porcelain combined with patinated brass, are hand-finished and assembled in their Brooklyn factory.
Necessity may be the mother of invention, but inventions are only as good as their inventor—and Hendifer is markedly brilliant. As brilliant, say, as the lumens emitted from Apparatus's fixtures. Some of which—like Twig, Arrow, and Highwire—etch across a wall or above a table like a drawing, while others—like Median, Circuit, and Lariat—shine like jeweled adornments we are used to seeing close to the skin. In their Horsehair collection, one of their most unique and evocative lines, the namesake tresses are combined with brass and frosted glass—a stark and appealing juxtaposition that demands the attention of a sculpture.
"Apparatus stands out from other lighting makers with their use of unexpected materials, elegant silhouettes, and of course with the environments they build," says Studio Como's Chelsea Hamer (who previously worked for Apparatus). "The creative vision from the beginning has forced other designers to push the boundaries of design."
Total Work of Art
Hendifer has imbued the spirit of Apparatus with the principle of gesamtkunstwerk, or "total work of art"—a principle that has resonated in the history of aesthetics from Wagnerian opera to the Arts & Crafts and Art Nouveau movements, and into twentieth-century modernism. Each of Apparatus's chandeliers, lantern pendants, sconces, and fixtures is an expression of completion, as are the studio and multiple showrooms.
"The real art is not just about creating beautiful, complex lighting," says Hamer. "It's about a multi-faceted environment in which these pieces are represented. The moment you walk into an Apparatus showroom, you are enveloped with scent, moody lighting, soft music, and various textures under foot and hand."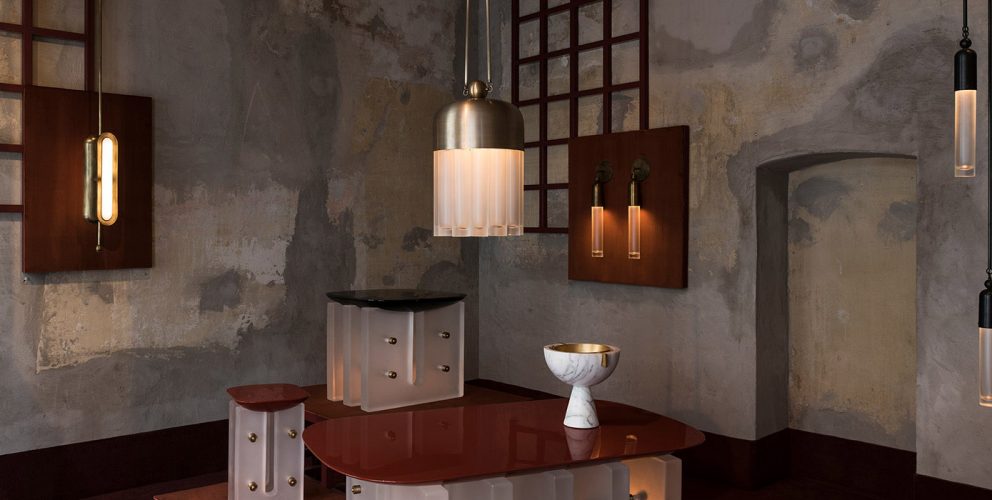 Hendifer also operates as Apparatus's auteur. He's produced a series of short videos called "Acts" that introduce their various lines by setting them within the world of moving pictures. Here, Apparatus shows their lighting and furniture within the intricate web of historical and cultural references from which they were spun. These cinematic gestures are truly rare and artful offerings in the furniture industry. They enrich the total experience, further conveying that by purchasing an Apparatus piece, you are acquiring an artwork and future artifact.
Adding to the aura of rarity surrounding Apparatus, their pieces are available exclusively through a very limited number of retailers, including Studio Como. Visit our flagship showroom in Denver to see our favorites and bestsellers, and speak with one of our complimentary design consultants to consider which Apparatus pieces would best illuminate your home—now and for the ages.
---