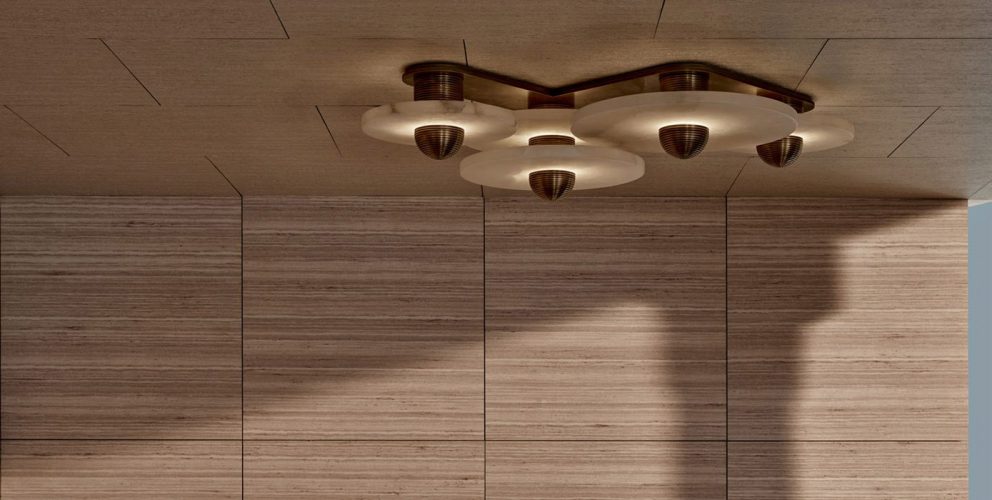 Classic Yet Contemporary
Decidedly modern compositions combined with age-old materials like brass, silver, and alabaster—meet the Median series of surface mount lights by Apparatus.
---
Overview
Referencing traditional Middle Eastern jewelry while pushing it through a futurist lens, the translucent alabaster planes of Median Surface Mount Light by Gabriel Hendifar for Apparatus are intersected by a fluted brass form. The stone glows from a light source that remains hidden, illuminating the relationship between the solid and the permeable.
Please refer to the Tear Sheet in the Product Details section for all technical specifications. For expert advice or custom options, please contact a Studio Como Design Consultant.
---
About Apparatus
Founded in 2012, Apparatus creates bespoke furnishings and lighting that revolt against the corporatization of design. The company's distinctive catalog is created with sensual materials like marble, suede, horsehair, lacquer, and porcelain combined with patinated brass. Embracing a tradition of studio craftsmanship, each piece is hand-finished and assembled in New York.