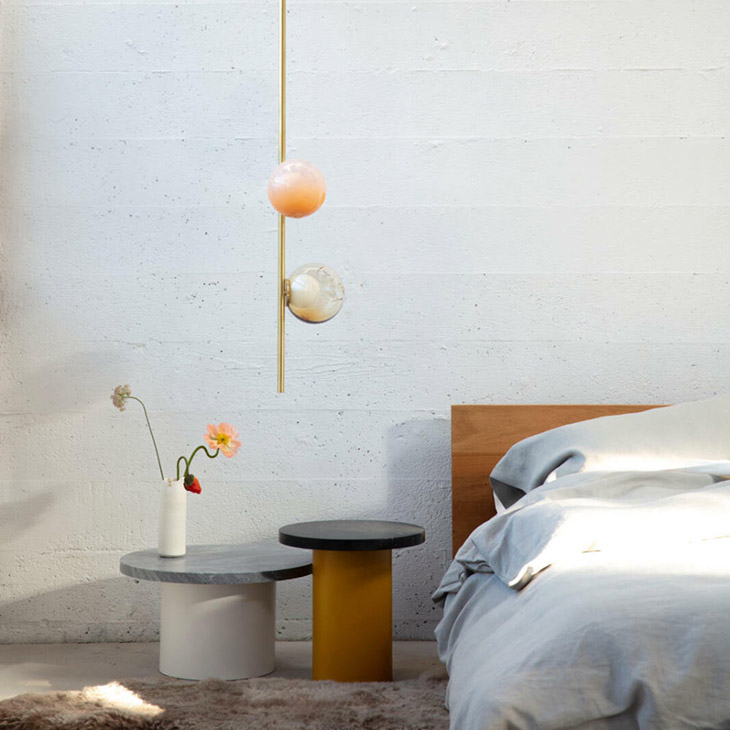 Overview
28 Series Stem Pendant Lights by Omer Arbel for Bocci result from a complex glass-blowing technique whereby air pressure is intermittently introduced into and then removed from a glass matrix which is intermittently heated and then rapidly cooled. The result is a distorted spherical shape with a composed collection of imploded inner shapes, one of which acts as a shade for the light source.
Details
28.6 is comprised of 6 hand blown glass pendants mounted on a long stem (1.8m), available in black powder coated or brass finish, on a threaded canopy for ease of installation

The brass used in our Stem Series is untreated and, as such, will develop a natural patina over time.

Lamps (1.5w LED) and power supplies included

Power supplies can be mounted remotely in an easily accessible and hidden location for ease of long-term maintenance

The fixture can be leveled with aircraft cable and swag hooks (provided)
The fixture is not designed for a standard ceiling octagonal junction box
There are multiple color options available for the 28 Series
---
About Bocci
Bocci is a lighting design and manufacturing company based in Vancouver and Berlin. Founded in 2005 under the creative directorship of Omer Arbel, Bocci represents an approach to lighting that is devoted to the relationship between spaces and objects.