Writing an artist profile for Jamie Kripke is a bit challenging because you can't simply say, "Jamie is a sports photographer," or "Jamie is a portrait photographer."
One of his least favorite questions is, what do you shoot? That's because he shoots everything, from people and places to action and raw emotion. He refers to it as finding beauty in the everyday. Using various formats to convey the experience of each subject, no matter how mundane its appearance, Kripke's work makes for some of the best home décor, advertising, and editorial material we've ever seen.
Today, Kripke lives and works in Boulder, Colorado with his wife, two daughters, and a huskydoodle named Darwin, but he grew up in a quiet suburb of Toledo, Ohio. At 15, his mother gave him her old Minolta SLR. It was a complicated camera, even for a future master. Figuring out settings, like the inverted numbers of the various shutter speeds, interested Jamie in a way that stuck. Not long after that, he became the photographer for the school paper and yearbook.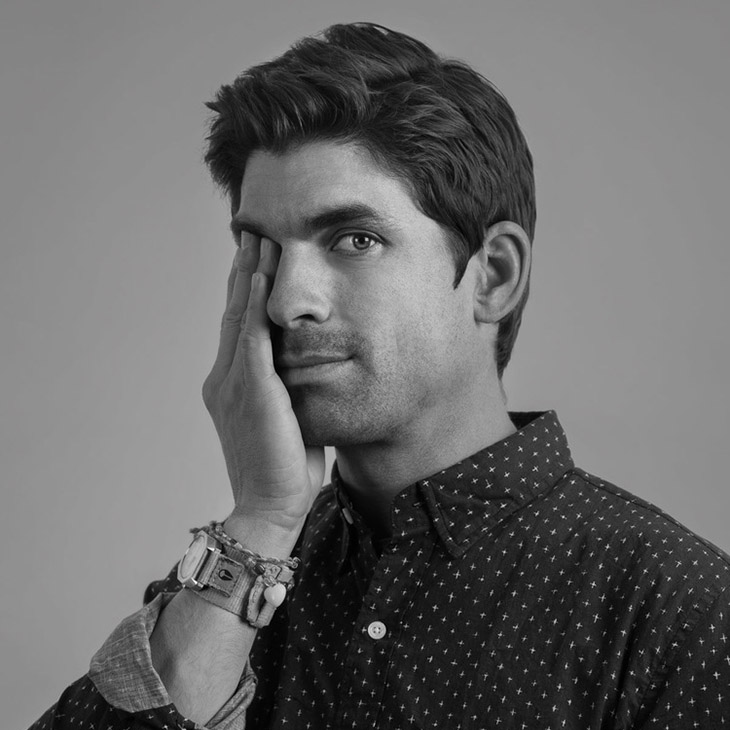 Over the years, he spent a lot of time examining this image and it quickly became less of a derrière and more of a lesson in minimalism; how the eye seeks – and finds – meaning.
Years later, Kripke had a poster of a skier in his bedroom. It was a crisp, perfectly-timed close-up of a jump. He became fascinated with the idea of capturing that perfect ski shot, so he made it his goal to sell a photo to Powder Magazine. When he learned that his poster was made by a photographer jumping on a trampoline in full gear, he was disappointed, but intrigued by the art of manufacturing a shot.
While chatting, Kripke and a friend half-jokingly came up with an idea for a photo, and they decided to go for it. The friend laid in the road in a funny, splayed position after he and Kripke carved out a pair of fake ski tracks leading right down to the road. Jamie took the shot from the top of the tracks, and it sold to Powder Magazine for $75.
Early Influence
A minimalist landscape photo by Andreas Gursky sold for over $4 million in 2011. It's a shot of a river with horizontal lines and no features other than the water and the banks on either side. This drew Kripke's attention to the fine art world. How could a plain picture like that have so much value? The next image to leave an impact on Kripke was not a photo, but a painting by Robert Bechtle of a hyper-realistic station wagon. It captivated him emphatically and brought to his attention the beauty of ordinary, everyday things.
Kripke followed the work of William Eggleston and Steven Shore, photographers known for creating mesmerizing photos from mundane items and settings. Shore's work featured careful composition while Eggleston's seemed haphazard. Both would influence Kripke's artistic direction.
---
Jaime Kripke & Modern Design
Today, Kripke has achieved enormous success in advertising, editorial, and print photography. He travels the world taking pictures of everyday things, and he's developed a philosophy about his art that summarizes why it's so popular. "For me, photography is so much about the experience. It's not about the actual picture.", asserts Kripke in an email to us. "It's about everything that leads up to making that picture, and that's why I do it." When you look at Kripke's photos, you can truly see the story behind them. That's why they work so well for advertising and editorial, and that's why interior designers and consumers alike seek out his work for their homes.
Pairing a Jamie Kripke piece with modern home décor is a little bit about the layers of color, the subject, the tone, and the composition, but it's much more about the story behind the art and how that translates to the home itself. The Rocky Mountain region Kripke serves is known for contemporary mountain modern styles that incorporate warmth and life into the design. When you look at the décor, you might see clean lines and intentional color, but you also see the story, the family, and the living that happens there.
Jamie Kripke at Studio Como
We feature a lot of Jamie's work here at Studio Como because we love how his art adds life and color to the space it occupies. It allows you to see the potential of our European modern furnishings and accessories in natural Rocky Mountain style. You can view Jamie's work at our Denver, CO showroom.