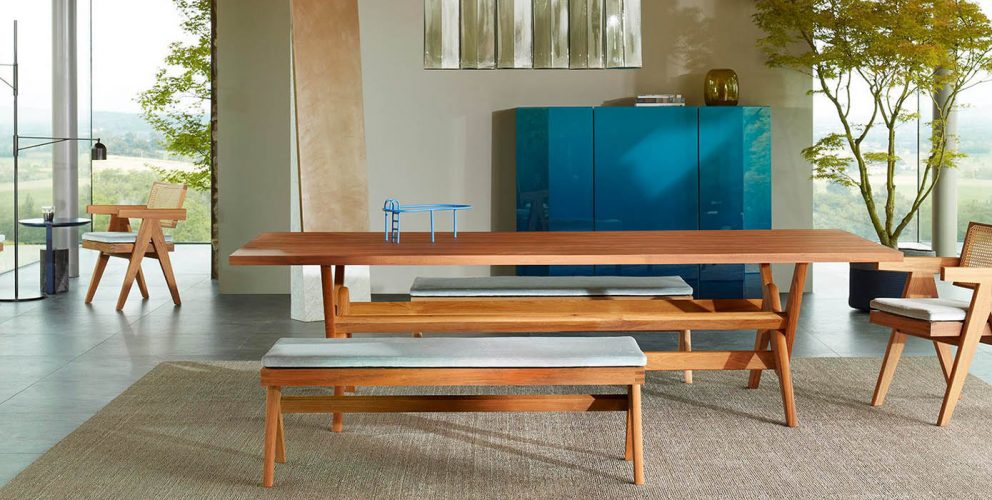 Pierre Jeanneret, Designer
Born in Geneva in 1896, Pierre Jeanneret was a forward-thinking modernist who spent much of his career working in collaboration with his cousin, Le Corbusier. For over 20 years, they designed architectural spaces and furniture pieces together. One of their largest collaborations—urban planning and architecture for the city of Chandigarh, India.
---
Overview
The Capitol Complex Dining Table by Pierre Jeanneret is a reissue of the classic conference table that was designed for the Palace of Assembly at the Chandigarh Capitol Complex designed by architect Le Corbusier in 1951.
A Unesco World Heritage Site in India, the Chandigarh Capitol Complex has received accolades for its celebration of an independent nation open to modernity. Chandigarh was one of India's first planned cities and was Le Corbusier's largest project. Its three buildings—the Palace of Assembly, the Secretariat Building, and the High Court—make up the core of the master complex.
Among the furniture used in the Palace of Assembly is this large table. Almost as if to evoke the solemn functions of the place, this model has a base made up of two important and graphic solid wood elements with a characteristic corns entrecroisées shape.
In addition to the historic version with teak top and structure, the Cassina re-edition offers two variants in natural and black stained oak with the option of a glass top.
---
About Cassina
With the instinct to foretell today what will become a classic tomorrow, Cassina has been designing the future of interiors for over 90 years. Founded by brothers Cesare and Umberto Cassina in 1927, the company is credited with launching industrial design in post-war Italy.